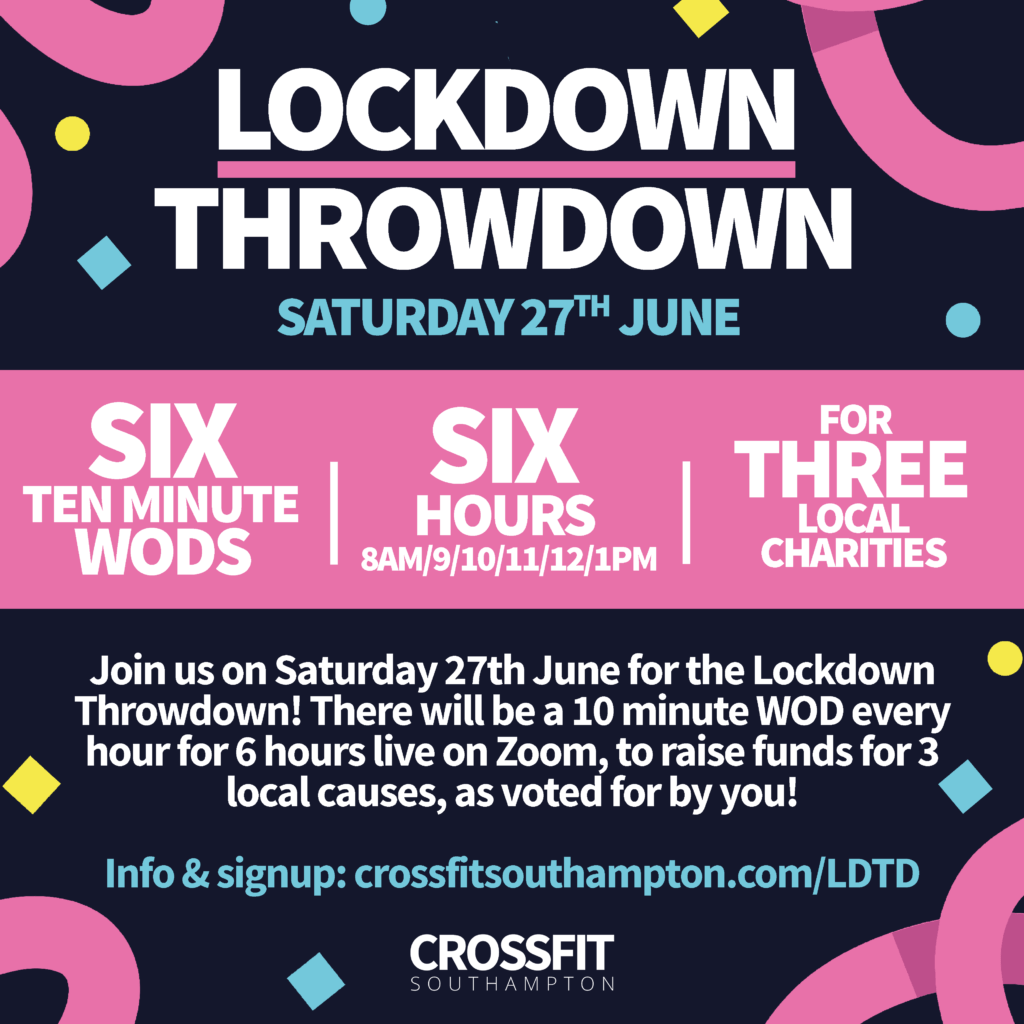 EVENT INFORMATION
Join us on Saturday 27th June for the Lockdown Throwdown! There will be a 10 minute WOD every hour for 6 hours live on Zoom
The WODS will be at 8am, 9am, 10am, 11am, 12pm and 1pm live on Zoom using the Zoom meeting ID 878-7385-1414
Join for as many or as few WODs as you can, it's all for fun and good causes. There will be prizes for effort and performance in the WODS! 
SUBMIT YOUR WODs
Submit your WOD suggestions to us (maximum 10 minutes) and we'll pick the best 6! It's £10 to enter using the link below and all funds go to the 3 chosen charities,
CHARITIES
We'll split the funds raised between 3 local causes, as voted for by our members in the CrossFit Southampton Members Facebook group! 
SIGN UP LINK
opening times
Monday
06:00-08:00  |  10:00-14:00  |  16:00-20:00
Tuesday
06:30-08:30  |  10:00-14:00  |  16:00-20:00
Wednesday
06:00-08:00  |  10:00-14:00  |  16:00-20:00
Thursday
06:30-08:30  |  10:00-14:00  |  16:00-20:00
Friday
06:30-08:30  |  10:00-14:00  |  16:00-20:00
Saturday & Sunday
09:00 - 12:00
mail
info@crossfitsouthampton.com
address
CrossFit Southampton | Unit 3B Barton Park Industrial Estate Chickenhall Lane | Eastleigh | Hampshire | SO50 6RR