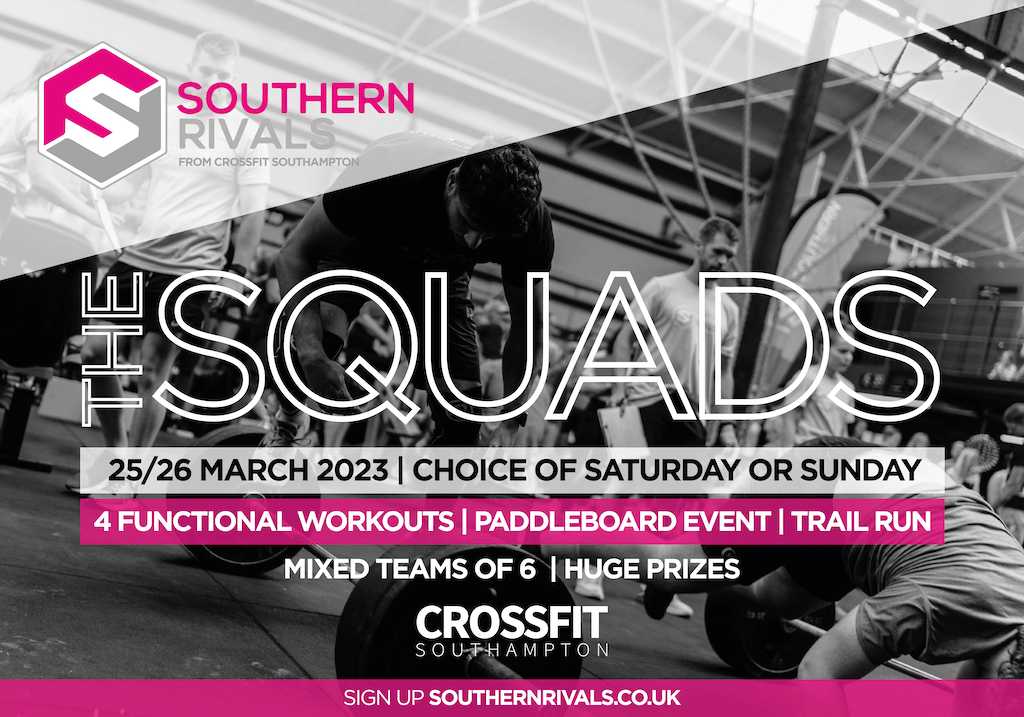 Southern rivals | THE SQUADS
NEXT COMPETITION…
Join us on either Saturday 25th March 2023 or Sunday 26th March 2023 for a mixed teams of 6 (3 male, 3 female) competition by CrossFit Southampton. There's no RX or scaled, the event caters for all abilities with just a handful of minimum ability requirements per team.
This time we're leaving the box and heading to a huge 90-Acre site on the South Coast. Located just off the M27 between Hedge End and Botley in Southampton, Fairthorne Manor will be the host site of The SQUADS 2023.
Accessible to all abilities, this flagship mixed teams event will feature 4 functional workouts; 3 using kit you're familiar with whilst the other will be a paddleboard relay agility event (for 2 team members) running alongside a woodland trail run for the rest of the team. The final 3 teams on each day will win some huge cash prizes and stash from our event partners!
Refreshments including top quality speciality coffee from our in-house coffee shop 'Coffee Box', energy drinks and snacks will be available on the day as well as breakfast and lunch from our catering partner.
Workout demos and movement standards will be announced online in the weeks leading up to the competition.
Our free Stretch Den sessions will be running all day to keep you mobile, as well as on-site sports massage provided by one of the biggest names in the industry.
We'll be revealing all of our sponsors and event partners over the coming weeks!
Entry is £50 per person and can be purchased using the link below – places are very limited! No need to give your team names just yet, we'll be in touch nearer the time.
Not got a full team yet?
Our 'Southern Rivals – Free Agent' group is for any of you looking for remaining team members to get teamed up! Link to join here 
If you're keen to reserve your team spot before having a full team you can just tick 'add team members later'.
Minimum standards/ability

We're regularly praised for our event accessibility whilst still ensuring a challenging and fun day. There's no RX or scaled with this competition, we just ask that as a guide, any 2 of your 6 team members can do the following:
TTB
Pull Ups
Double Unders
Are confident on water
Deadlift 100kg/70kg
GTOH – 70kg/45kg
Not all team members need to be able to do these, for example if 2 team members can do pull ups but cannot GTOH 70/45KG, but 2 others can, this is fine.
These are an example of the types of movements and weights you'd need to be able to perform, not a guarantee they will all appear!
If you have questions regarding any of the event details, get in touch!
This is something different | This is functional fitness | This is The Squads.
Sound good? Book NOW!
PREVIOUS EVENT PHOTOS
You can view photos from our previous Southern Rivals events below:
SQUADS 2023
SATURDAY
SQUADS 2022
SATURDAY
SUNDAY
QUADS 2021
October 2021 – Scaled photos HERE
October 2021 – RX photos HERE
Praise for Southern Rivals
'it was indeed an amazing day! So well organised! Great atmosphere. I've been thinking about it all day. Thank you so much everyone xx'
'Such a great day, so well programmed and run! We can't wait for the next Southern Rivals'
'A great day, well programmed, good consistent judging, and everyone having fun'
'It was sooo much fun, great day! Thank you!'
'Had an awesome time competing. Was very well organised and ran smoothly. Amazing job to everyone who played a part!! Can't wait for the next one'
'Brilliant job guys, very tough but enjoyable WODs, very well organised and great atmosphere. Thank you to all the judges too'
'Thanks for having us. We had a great time and will definitely be back. Great comp!'
'Such a brilliant event! Hope to never hear the words 'No Rep' again! '
opening times
Monday
06:30-07:30  |  17:45-21:00
Tuesday
06:30-07:30  |  11:30 – 13:30  |  17:45-21:00
Wednesday
06:30-07:30  |  11:30 – 13:30  |  17:15-21:00
Thursday
06:30-07:30  |  11:30 – 13:30  |  17:45-21:00
Friday
06:30-07:30  |  17:45-20:00
Saturday & Sunday
09:00 – 11:00
mail
info@crossfitsouthampton.com
address
CrossFit Southampton | Unit 3B Barton Park Industrial Estate Chickenhall Lane | Eastleigh | Hampshire | SO50 6RR